Mr. Illustrator: Steven Moore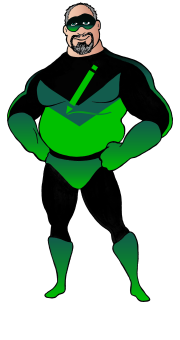 By day he's the mild mannered creative element of an IT department. But at night he becomes an artistówearing a tight fitting superhero costume.

STEVEN MOORE has traveled to several countries and been to numerous states within the U.S., but has lived most of his life near the Gulf Coast of Alabama. He currently resides in Loxley, Alabama with his wife (Robina), two dogs (Tator and Tottie) and cat (Allergy).
At a young age, inspired by the incredible artistic talents of his older brother, he began drawing. He has created art as a professional artist (working mostly with ad specialties and screen-printing) and for his own enjoyment (having a preference for Science Fiction and Fantasy).
He has always tried to tell a story with his art. Gnome Legends was his first attempt to use words as his artistic medium. He is currently working on the next two Gnome Legends novels and a Coloring & How-To Draw book. www.grimtrojan.com
If you have a question for Mr. Illustrator, click on the button below and ask. If you have any comments, you can still use the "Ask" button. He'd love to hear from you.
Return to The Inscribables main page